Awakening the natural healing power of women together with Shaman Aayla
22 november 2022: 18:00

-

21:00

€40
Tuesday, November 22. Master class Awakening the natural healing power of women. Acceptance of her power, herself, her body, and her destiny.
Take your drums and pictures of loved ones.
🪶Healing ritual,
🪶special shamanic massage, removing blocks and tensions,
🪶 shamanic journey,
🪶opening of the magical voice.
18:00 Walk in and registration
19:00 Master class
21:00 Questions, personal communication with Shaman
🌿 Limited places! Registration: romanie@wolftaenzerin.com 
Register before the 10th of November it is €40,= After the 10th it is €50,=
Do you want to come both days then it will be € 70,= instead of € 100,= 
The female body received a gift from God – the uterus.
The uterus is a sacred organ where a huge amount of energy is stored.
When the soul incarnates in a woman's body, the child gets into different situations. During the Pisces Age there were many different situations where women were treated incorrectly, even violently. This has shaped many traumas related to a woman's acceptance of herself, acceptance of her body, her purpose, love, acceptance that she is worthy of something more, acceptance of her feminine energy.
In this workshop we will touch on this sacred theme: acceptance of self and acceptance of God within you. We will have a shamanic massage and a shamanic journey to ourselves. We will awaken our natural, sacred voice and the natural healing power of women. All of this will happen through working with our womb using ancient shamanic techniques that have been preserved in the Ayla's shamanic lineage.
We are glad that in this workshop we will be able to give you the ancient knowledge.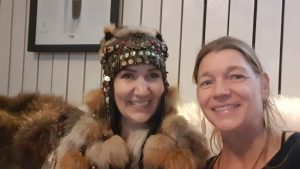 💚 Awakening of the natural healing power of women. Healing traumas of love 💚
Where does the trauma of love come from?
When the soul is in the subtle plane, between births in physical bodies, it is in the energy of God. The soul is in full, total, boundless love. But when the soul receives a physical body and is born on the Earth, here on Earth love is always limited by certain conditions. For example: I love you if you give me gifts, or I love you, because you…
And the child meets a situation where he expects divine, unconditional love from his parents or other people around him. And in different situations this child is not understood, people give only limited love or no love at all, then trauma occurs. The child expects one thing, but receives something else. And then the soul identifies with the thought that she is not loved, that no one needs her. The soul forgets that she is divine. Throughout life, this trauma of love imprints on all events, on the relationship with the person you love, on the birth of children, on the relationship with your parents.
In this workshop we will touch on this very painful, very subtle and profound subject. We will begin the deep journey of healing our souls and returning to true divine love.
Monday, November 21 The Circle of Female Power. Voice of the heart.
Take your drums and pictures of loved ones.
▫️shamanic massage,
▫️intuitive singing,
▫️shamanic drum circle,
▫️circle of feminine power.
18:00 Walk in and registration
19:00 Circle of Female Power
21:00 Questions, personal communication with Shaman
🌿 Limited places!  Do you want to come both days then it will be € 70,= instead of € 100,= 
💚 Awakening of the natural healing power of women. Acceptance of myself. The divine in me. 💚