Circle of UMAI – The Future of the Female Energy (introduction)
14 september: 20:00

-

21:30

€25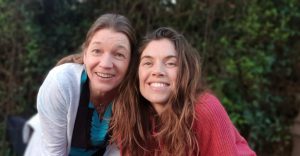 Together with Mervi, we are starting our second group of a women's gathering.
UMAI stands for Mother Earth, PachaMama, back to the womb where the origin lies.
In Romanie's practice, which is literally in and under the earth, we return to ourselves.
We do this to give everyone space in your story through a Navajo "weddingbasket". As soon as we connect with it, what is relevant to you and me at that moment comes up.
This is supported by the drums and singing. The frequency of the sound, guides you in the path to healing, giving place and letting go. We aim for a group of women who go through this process throughout the year. By having a fixed group, you create trust towards each other and yourself and we can go deeper and deeper!
Reserve your place here
This is an annual course of 6x, so once every two months approximately. We aim for a maximum of twelve beautiful women and if there are more we will start a new next group. (minimum of six women) So as to give everyone a nice opportunity to express themselves in dance, voice, song or in another way in a beautiful familiar environment with familiar women.
Together to come back into balance with our femine energy and stand for what we are here for, each on our own path, own value, own way and yet strong together!
We, Mervi and Romanie, welcome you with open arms, love and understanding, IMMEDIATELY as you are.
Who are we?
ROMANIE
Shamanic Practicioner of the Nordic tradition, Natural Healer. Initiated by UMAI and she has been given the spiritual name Uummatigissoq which means "You make everyone's heart alive within each individual you touch upon". Romanie has a unique voice that touches your soul and helps you listen intuitively to nature, spirits and your own essence. She leads drum circles, organises shamanic events and seminars in the Netherlands and is co-organiser on an international level for several shamans. More info www.wolftaenzerin.com
MERVI
Has a practice for foot reflexology massages in Amsterdam Noord. She is very committed to the well-being and health of people, and women and children in particular. The way back into the body is the common thread in everything she does. Being in our bodies again with our attention and meeting everything that presents itself there with love. Drumming and coming together with others are very powerful tools to clean up the body and reconnect with ourselves and others.
Introduction from 20:00 – 21:30: introduction for only €25
Make your reservation complete
The following dates on which it takes place:
To be followed
Costs for these 6 days are €240