Kom in je Kracht (come into your Strenght)
18 juni: 10:00

-

16:00

€130
Romanie Spierts is coming to Geldrop to take us on a day of singing, drumming and an encounter with our souls.
What are we going to do and what does the programme look like?
Do you feel the desire to be heard, to use your voice and to feel the power and support of the drum? Are you ready for a soul meeting, to face life from there?
Then you are most welcome to this all-inclusive day.
You will learn to sing/chant in a shamanic way and get to know your own voice as an instrument to express what lives inside and outside of you.
We will make an intention and start drumming together, supported by different rhythms from the North American tradition and you will experience the healing effect of shamanic drumming.
Already more attuned to yourself through the singing and drumming, you will connect with your soul, to complete the day more grounded, healed and activated.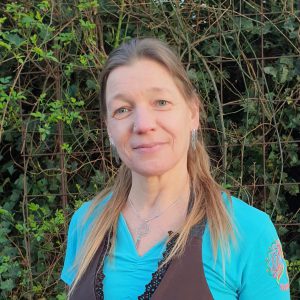 Who is Romanie anyway?
Shamanic Practitioner of the Nordic tradition, Natural Healer. Initiated by UMAI and she has been given the spiritual name Uummatigissoq which means "You make everyone's heart alive within each individual you touch upon". Romanie has a unique voice that touches your soul and helps you listen intuitively to nature, spirits and your own essence. She leads drum circles, organises shamanic events and seminars in the Netherlands and is co-organiser on an international level for various shamans.
More info www.wolftaenzerin.com