OERCHANT / singing
8 februari: 09:30

-

11:30

€40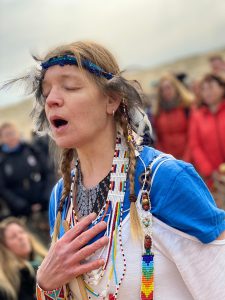 The Singing/Chanting workshop is about pure voice use, getting to know your own voice as an instrument to express what lives inside and outside you.
You can participate even if you used to be told "Go and sing somewhere else".
Shamanic Chanting is not about singing songs, but about exploring your own nuances of the voice. Listening to how the tones come out of you, from which places in the body.
Chanting is about releasing the primal force in the body, which may be surprisingly subtle. We also use fun experiments: how do you sound when you have eaten chocolate, for example, or gooseberries?
Working with these nuances has confidence-building effects on issues such as "I do have a loud voice, yet people don't seem to be able to hear me." or "People just don't listen to me!".
Cost per session €40