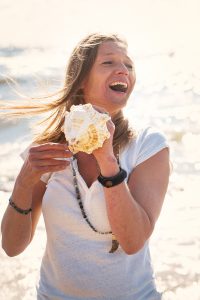 I am Romanie Spierts and I speak the language of nature. I have always been drawn to the beauty of nature, but it wasn't until I learned the principles of shamanism that I really began to understand the nuances of nature's language. I sometimes feel awkward in the language of humans: The silence of nature slowly translating into sound and rhythm gives me a new confidence in the content of words.
My first teacher was Carolina Visser (www.soulwind.eu). With her I learned shamanic healing, soul retrieval, joiking and shamanic chanting, constellations, the power of ceremonies and much more. I was her assistant for 3 years.
Since November 2016, I have been apprenticed to Angaangaq Angakkorsuaq (www.icewisdom.com), a shaman, healer and storyteller from Greenland. Through him I became an initiated shaman and deepened my understanding of "melting the ice in our hearts". Through him I gained a deeper understanding of how to recognize one's own path through the warmth it brings. For myself and for others.
Since August 2018, I have been carrying the Qilaut of the Tuukkaq circle, the traditional wind-drum from the Eskimo Tradition: "a circle that has neither beginning nor end, in which we all belong. Only the man who made us – the great Creator – holds the handle, and every time he touches the edge, he hears the heartbeat of humanity."
I am also co-organizer of Icewisdom's international workshops and events, and organizer of the workshops and events in the Netherlands. I also organize the individual online sessions for Angaangaq.
In this way I penetrate deeper and deeper into the essence of life, and when there is a disturbance I look for the vibration of the core, often through sound and tone, but also through images of power animals for example. That's where the healing begins, that's where I can invite people in.
I strongly believe that in this work it is important not to be on an island. Lately I have found contact with people from the world of yoga and meditation.
I am married to Etienne and have two grown sons, Joshua and Nigel, and a faithful companion in the form of my wolf dog Mayla.
Since November 2019, I have received my Spirit Name: Uummatigissoq. "You bring to life the heart of everyone you touch." My Spirit Animal is the Qupaloraasuk: "the snowbird that brings the message of the new year".