For English Scroll down!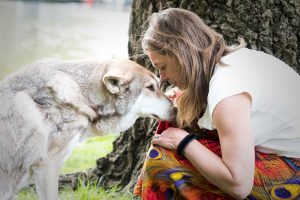 Wolftaenzerin en wolfhond Mayla bundelen energetisch hun energie!
Sjamanisme en Spirit, Psychologie en Energie, Dag en Nacht, Zon en Maan.
Dat alles vind je bij Romanie als zij aan het werk gaat.
Om je de mogelijkheid te bieden deze bundeling van energieën mee te maken, organiseer ik weer een Shamma-dag.
Deze dag zal ik je mijn verschillende manieren van werken en methodes laten zien, alles met het doel de kwaliteit van je leven te verbeteren. Door het creëren van het leven en de doelstellingen, die voor  jou belangrijk zijn
De workshop bestaat uit een kennismaking met sjamanisme, hekserij en andere werkvormen. Binnen het programma hebben we voldoende ruimte voor interactie en actieve deelname. Na deze dag ben je vervuld van nieuwe energie en kennis over jezelf, waarmee je aan de slag kunt voor jezelf en voor anderen.
Programma:
Opening
Sjamaanse trommelreis
Sjamaanse opstellingen
Uitleg energie
Energetische tekening lezen
Aura en chakra kleuren eventueel in combinatie met tarot
Balansmeditatie
Sjamaans reinigingsritueel
Ik nodig jou uit!  2021!
Inschrijven kan tot uiterlijk . De workshop duurt van 10.00 uur tot 16.00 uur. De kosten bedragen voor de gehele dag € 105,00. Dit is inclusief lesmateriaal, lunch, thee en versnaperingen.  Jij zorgt voor actieve deelname en brengt goede zin mee, gemakkelijk kleding (en een deken of iets om op te liggen). Ik zorg voor de rest!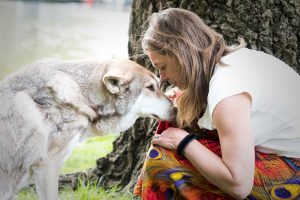 Wolftaenzerin and wolfdog Mayla are energetically joining their energy!
Shamanism and Spirit, Psychology and Energy, Day and Night, Sun and Moon.
All this you will find when Romanie starts working.
To offer you the possibility to experience this special connection of energies, I'm organizing a Shamma-day.
This day I will show you my different ways of working and methods, all leading up to the purpose of increasing the quality of your live. By creating the life you want and the goals you want to achieve.
The workshop consists of an introduction to shamanism, witchery and other techniques. Within the program there will be plenty of room for interaction and active participation. After this day you will be filled with new energy and knowledge about yourself, that gets you started for yourself and others.
Program:
Opening
Shamanic purifying ritual
Shamanic drum journey
Shamanic constellations
Explanation energy
Reading energetic drawings
Aura and chakra colors eventually combined with tarot
Balance Meditation
I invite you!  1 2021!
Please register by  . The workshop is from 10:00 am to 4:00 pm.
The costs for the entire day are € 105.00.
This includes teaching materials, lunch, tea and refreshments.
You take care of active participation and bring a good mood, comfortable clothes (and blanket or something to lay on). I take care of the rest!